No Long-Term Contracts
This means either party can terminate the agreement with a 30-day notice to clear accounts. This is different than an agreement to be signed. That gives us legal permission to represent you in all matters.
We will cash flow you on repairs up to $300 and take it from future rent proceeds
For higher-priced work orders, we will need immediate payment to reimburse us for vendor payments. These funds need to be quickly sent, we prefer Zelle to pay through your bank. We pay our vendors immediately for reduced negotiated pricing from our account.
Random Inspection
One free random inspection per year on your rental. A written report and pictures will be sent to you.
Legal
We handle all HOA violations and city requirements including training as needed.
Online Portal
Owners will be given access to an online portal that will provide "rent rolls" and all pertinent information about their homes. Including lease agreements, paperwork uploaded, and financials.
Responsive
We promise to return your call within 2 hours (during business hours) and you have the owner's personal cell number. He will accept your calls even late at night if needed. We at DFW Rent Houses believe in old-school customer service.
Maintenance Discounts
You will receive discounts on all make-ready services and from all preferred vendors. From their specific scope of work.
No Upfront Cost
There is ZERO up front cost. We work for free until we have earned it.
Insured
We are licensed and insured for your protection.
No Fee During Vacancy
We don't charge for vacant rentals.
Quicker Maintenance
Our in-house maintenance department saves you money and helps our tenants with fast repairs.
Make-Ready Services
We offer discounted make-ready services to prepare for rental or in between.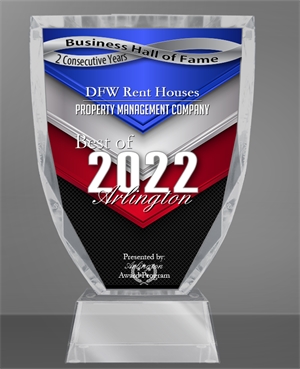 2022 Best of Arlington Property Management Company Award
DFW Property Management Company
DFW Rent Houses is one of the most trusted property management companies in the DFW area. We believe in full transparency and have a straightforward approach to the way we handle our business and relations with all involved. The DFW Rent Houses staff is filled with licensed and experienced professionals, all having a fantastic understanding of the market. This allows us to better serve property owners by maintaining occupancy rates and keeping expenses to a minimum.
Our reputation for professionalism and excellence is something you can absolutely rely on. We have tremendous support from our investors and all have nothing but positive reviews for us and can vouch for our integrity and detail to do honest work. We are a kingdom company meaning that we give God the glory and adhere to strict business practices.